Product name: JY-700 Flow wrapping machine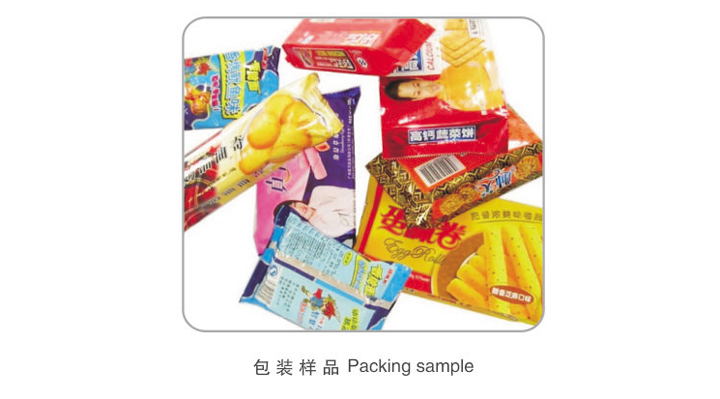 Main performance & characteristics
1、PLC with touch screen controlling, Speed controlling via inverters, automatic tracking, temperature controller and solid-state relay elements are adopted for accurate assurance at the index of the packaging pattern,seal temperature and speed etc.automatically displays the speed and length of the packaging to ensure cutting accuracy.
2、AC motor with converter,the step- less control realizes the dynamic adjustment in operation.
3、Photo-detection and dual tracking make the machine eliminate packaging error effectively and prevent material waste
4、Seal at a low temperature and effectively avoid stopping machine and burning the films.
5、The different former are very convenient for changing products.
6、Automatically Display the packaging length and speed, ensuring cut off accurately.
7、 Compact structure and low noise.
Using range
Mainly used for various kinds of solid objects with big sizes: such as: cookies,bread,pizza and cake bases, instant noodles, toilet paper,sanitary towel, baby diaper,fabric,infusion bag, pipe and fittings,lamps and lanterns,Industrial parts,pharmaceuticals tools,daily necessities, hardware, or any other big sizes products loaded in box or tray.
Technical parameter
Model
JY-700/150
JY-700/180
JY-700/210
Packing speed (bag/minute)
50-120bag/min
50-120bag/min
50-120bag/min
Packing size (mm)
Length x Width x Height
L60-400
L80-400
L100-400
W20-150
W20-150
W20-150
H15-75
H30-90
H40-120
Maximum width of film (mm)
<700mm
<700mm
<700mm
Thickness of film (mm)
≥0.025mm
≥0.025mm
≥0.025mm
Power
220V,50/60HZ,3.7KW
220V,50/60HZ,3.7KW
220V,50/60HZ,3.7KW
Overall size (mm)
5000*1300*1600mm
5000*1300*1600mm
5000*1300*1600mm
Weight
1200kg
1200kg
1200kg
Package
6.4CBM.2CASES
6.4CBM.2CASES
6.4CBM,2CASES
Packing material
OPP/PP、OPP/CPP'' PT/PEx PE、KOP/CPP PT/PE/x AL7PE etc. Any heat-sealable composite materials foil/film
The same series products