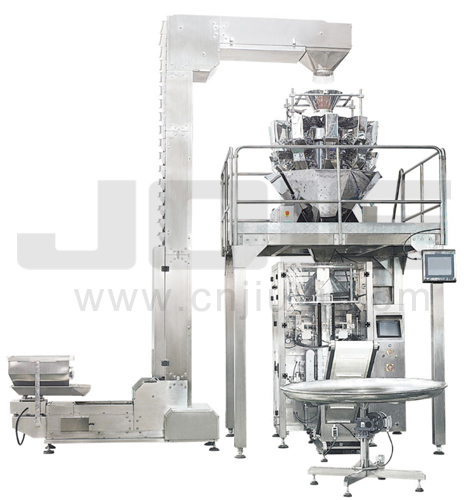 Product name: Multi-head Combination Weigher Full Automatic Packaging Machine
Combined parts
| | |
| --- | --- |
| 1、JEV series vertical machine | 2、Vibration feede |
| 3、10 heads weigher | 4、Supporting platform |
| 5、Z type bucket elevator | 6、Product conveyor |
The main performance and structure characteristics
1.Standard with computer-controlled multi-head weight (10、14、16 head),which has a high-precision,high- speed and good man-machine interface.
Easy to operate and clean.
2.It is widely used in food industry for packing irregular and uneven weight products.
3.Less manpower,less waste,easy operation and maintenance.
4.It can finish automatically all processes,from measuring,filling,bag making,date stamp and finished goods conveyance.
Using range
Suitable for packing fragile bulk material with irregular shapes and requiring high measuring accuracy,such as: prawn cracker,potato chips,banana chips,crispy rice,biscuit,peanut,roasted seeds,sweets,nuts,salt,sugar,frozen food,vegetable,hardware,plastic parts accessories etc.
Optional Function:
| | |
| --- | --- |
| 1、Air flushing system | 5、Link bag device |
| 2、Nitrogen gas flushing | 6、 Flip device |
| 2、Hole punch device | 7、Gusset bag |
| 4、Tear notch device | 8、PE bag device |
Optional External Device:
| | |
| --- | --- |
| 1、Air Compressor | 4、Nitrogen making machine |
| 2、Check weigher | 5、14 head combined weigher |
| 3、Metal detector | 6、Sala combined weigher |